Beading is more than a hobby for me. It's a passion, the way I capture and celebrate life. In this wesite, I've assembled some of my favorite designs, styles, and creations that mean a great deal to me. I have been a Native American all my life and find great peace in the enjoyment that the Creator gifted me with. I have grown up a child of color, and felt the pain of rude and insulting comments from some, but that has never dulled my celebration of the beauty of the bead. As you journey through our online trading post may you be inspired by something that we have here to offer.
The navigation bar at the top of the page will take you to our displays with the beadwork we offer included on each page. All the beadwork and traditional work is done by certified Native American hands and all work is hand made, our products are never mass produced. We have sought the advice and teachings of our elders and follow the guidelines set forth by our ancestors long ago.
I am an enrolled Tribal member of the Lummi Indian Nation in northwestern Washington state. My people, often refferred to as "The Salmon People", are of the Coastal Salish familes of the pacific northwest. We have a proud history as the fisherman of the beautiful Puget Sound. My ancestors traveled in groups of hunters, gatherers, fishers around the islands of the San Juan Island. Many legends and cultural stories speak of the majestic Mount Baker, and the Nooksack Valley. We have artists who are gifted in the arts of Carving, Cedar Weaving, and many other traditional works of the coastal salish peoples. I am proud of my history as I come from a distinct line of fishing persons who believed in the Creator and the plan that he had told the Ancient Ones about long ago. It is written in the Mormon bible that the chosen people to see Jesus were the Lummi people of the pacific northwest, and my elders tell of stories of a pale looking man stepping out of the clouds and tell them of the future.
As with many of the Native American Indian tribes, there are many fables, legends, and lessons to be learned and it is just where you are as to what you believe. Hyshqe!! Siams!!! ("Thank you my dear ones" in the Lummi language.)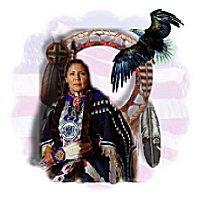 Above is a beautiful graphic that a friend made for me to use on my website. She is an online friend and had never actually seen me in person before she did her beautiful artwork. Below is an actualy picture of myself holding one of my newest one of a kind items. It is a bud vase with peyote stitched beadwork in the design of tulips. I think that she did a fantastic job without ever setting eyes on me.